Who would have thought that lavender cupcakes would be so easy to make and so herbally delightful?? I went to a lavender farm not too long ago with the kids and while I was there it dawned on me that lavender in a cupcake would just be amazing. So, I came home and got to work and these lavender cupcakes were born!
I obviously love baking and whenever I get the chance to create something new and fun, I kind of just go with it. If you are wanting to try out some fun new desserts definitely give these lavender cupcakes a try! You can also try these Nutella cupcakes, which are a huge hit with my family or these Raspberry Cupcakes.
Why This Recipe Works
Lavender is really relaxing and delicious.
It is a great way to incorporate fresh lavender into a recipe.
The lemon zest and juice really bring out the flavors in these lavender cupcakes.
The lavender and sugar mixture bring these cupcakes to a new level.
While you are making these your house smells absolutely amazing.
Ingredients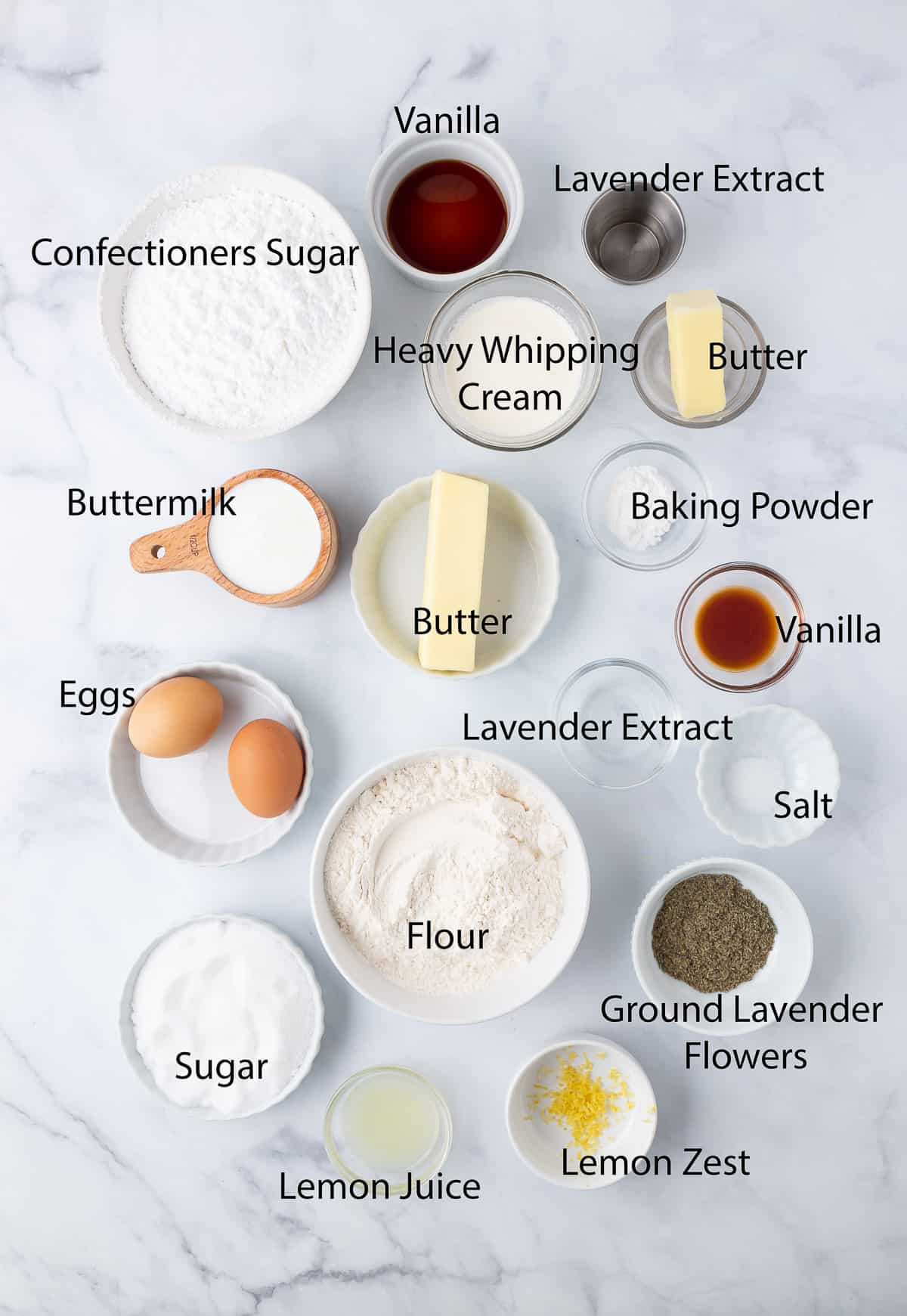 The lavender cupcakes are made up of a regular cupcake base of flour, baking powder, butter, buttermilk eggs and salt. Once these are mixed together you have a light fluffy cupcake base.
The sugar, ground lavender flowers, lemon juice and zest really marry together and have bring out each others flavors.
The addition of lavender extract with the vanilla extract adds in that perfect lavender flavor.
The frosting for these cupcakes is made up of confectioners sugar, butter, lavender extract, vanilla extract and heavy whipping cream. Once mixed together you have a delicious lavender buttercream frosting!
Variations
You could add extra lemon zest into the frosting for more of a citrus flavor.
While I only added violet food coloring into the frosting, you could also add it into the batter.
Add a candied lemon to the top of the cupcakes for a cute topper.
Instructions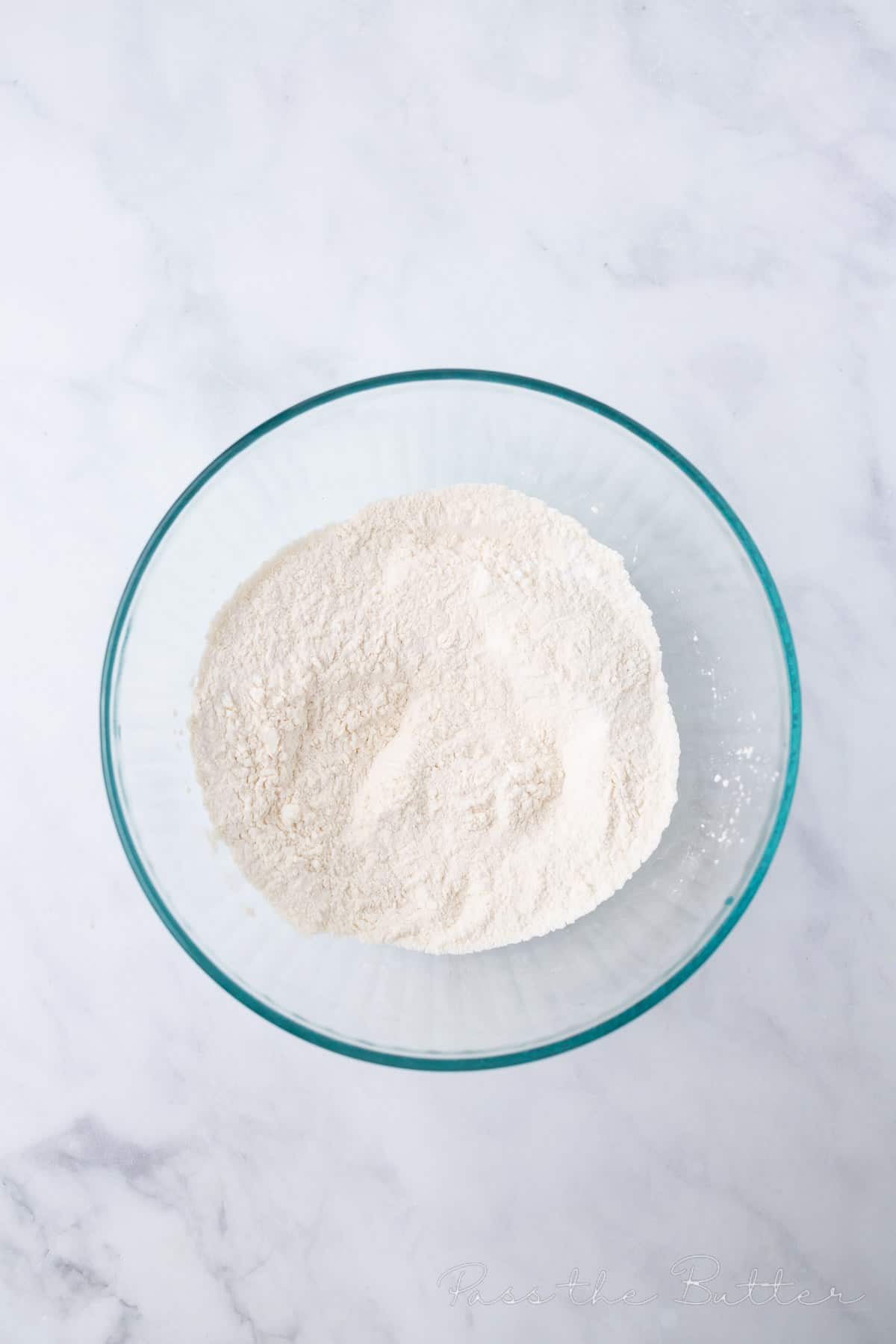 Preheat oven to 350 degrees F. Line a cupcake pan with paper liners,In a medium bowl, mix together the flour, baking powder and salt. Set aside.
In a bowl, mix together ground lavender flowers and sugar together. Set aside.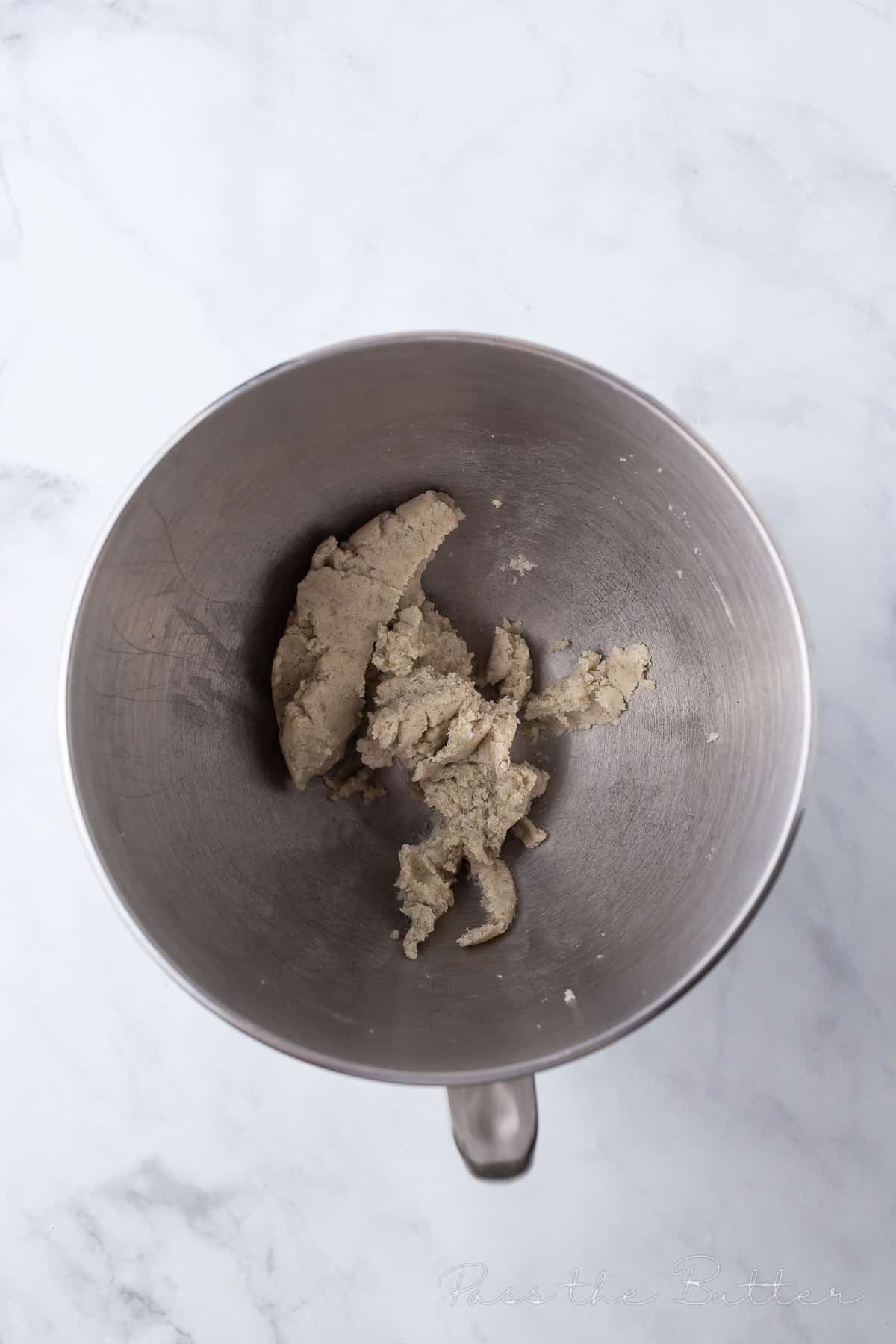 In the bowl of a stand mixer with the paddle attachment on, beat butter and lavender sugar on medium-high speed for about 2 minutes, until thick. Scrape down the sides as needed.
Add in eggs. Mixing well.
Add the vanilla, lavender extract, lemon zest and lemon juice and beat to combine.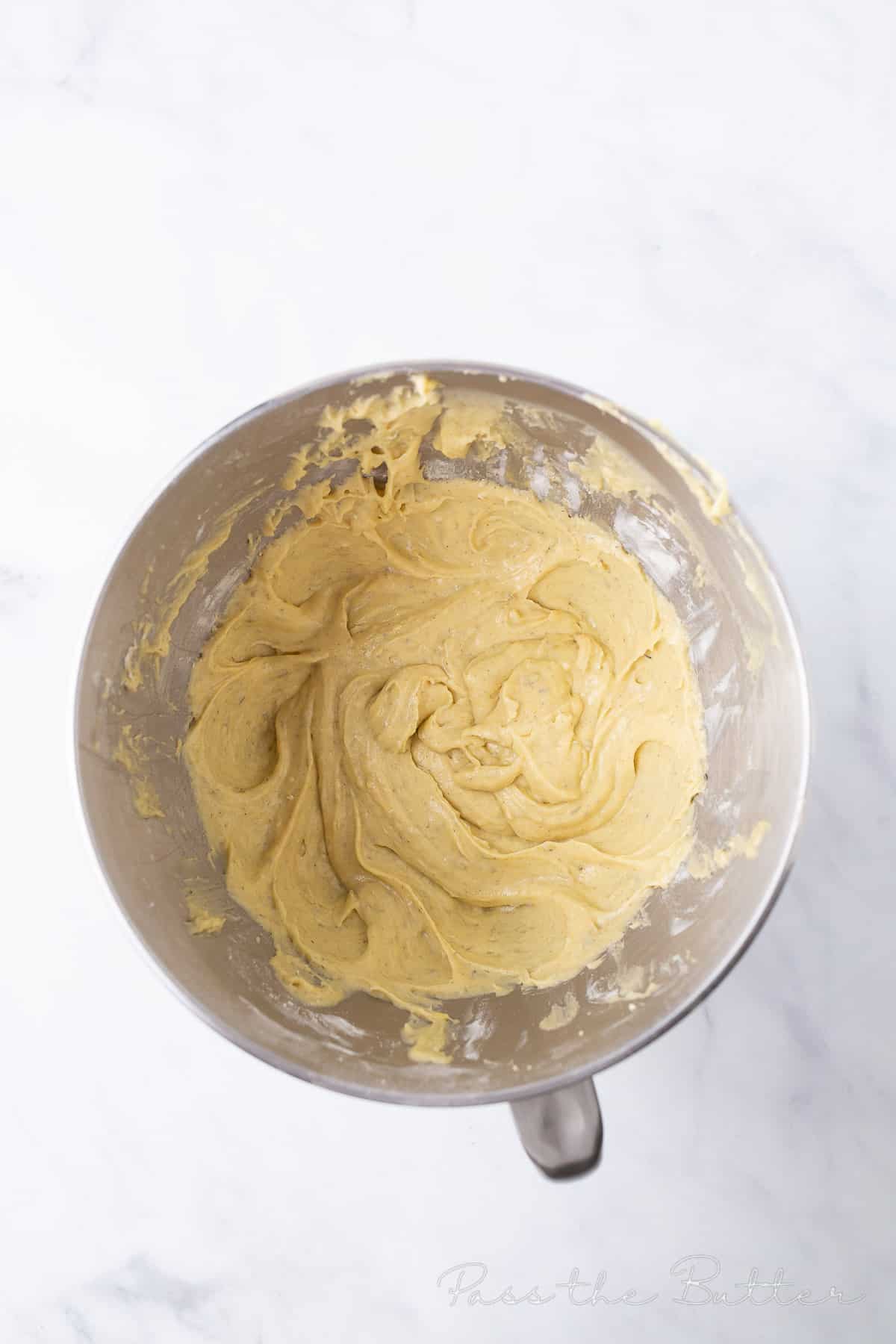 Reduce speed to medium and the flour mixture in thirds, alternating with the buttermilk, make sure they are well incorporated between each addition. Scrape down the bowl and mix for another 30 seconds until themixture is smooth.
Bake for 20 –23 minutes or until the tops spring back or a toothpick inserted in the center comes out clean.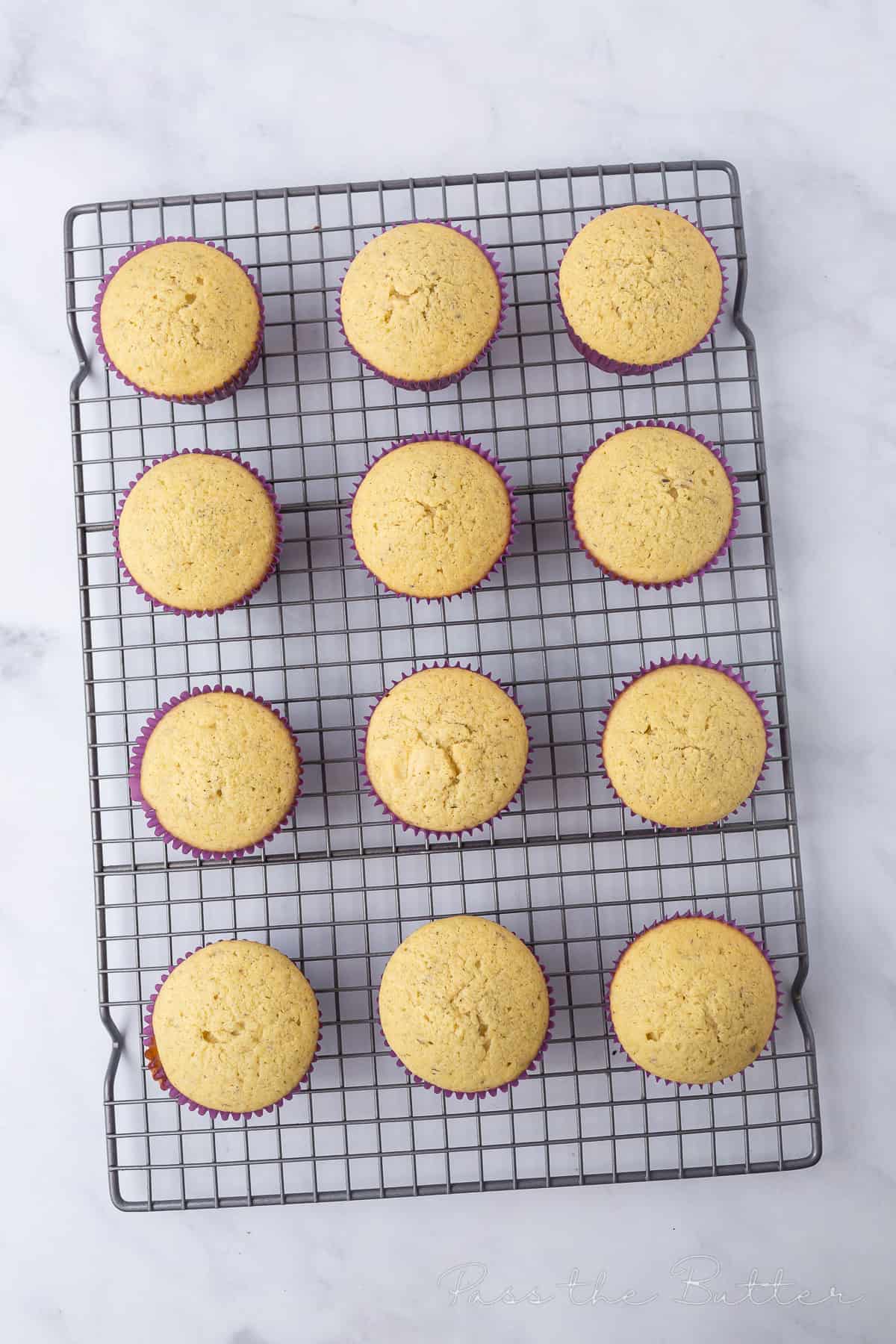 Allow to cool in the pan for 5 minutes before transferring to a wire rack to cool fully before frosting.
Sift the confectioners' sugar to assure there are no lumps. With a handheld or stand mixer, beat the butter at medium speed until fluffy (approx. 2 mins.) Gradually add the sifted sugar alternating with the heavy cream and vanilla. Beat on low speed after each addition. Stop adding cream when the desired consistency has been reached. Then add in an 5-7 drops of violet food dye.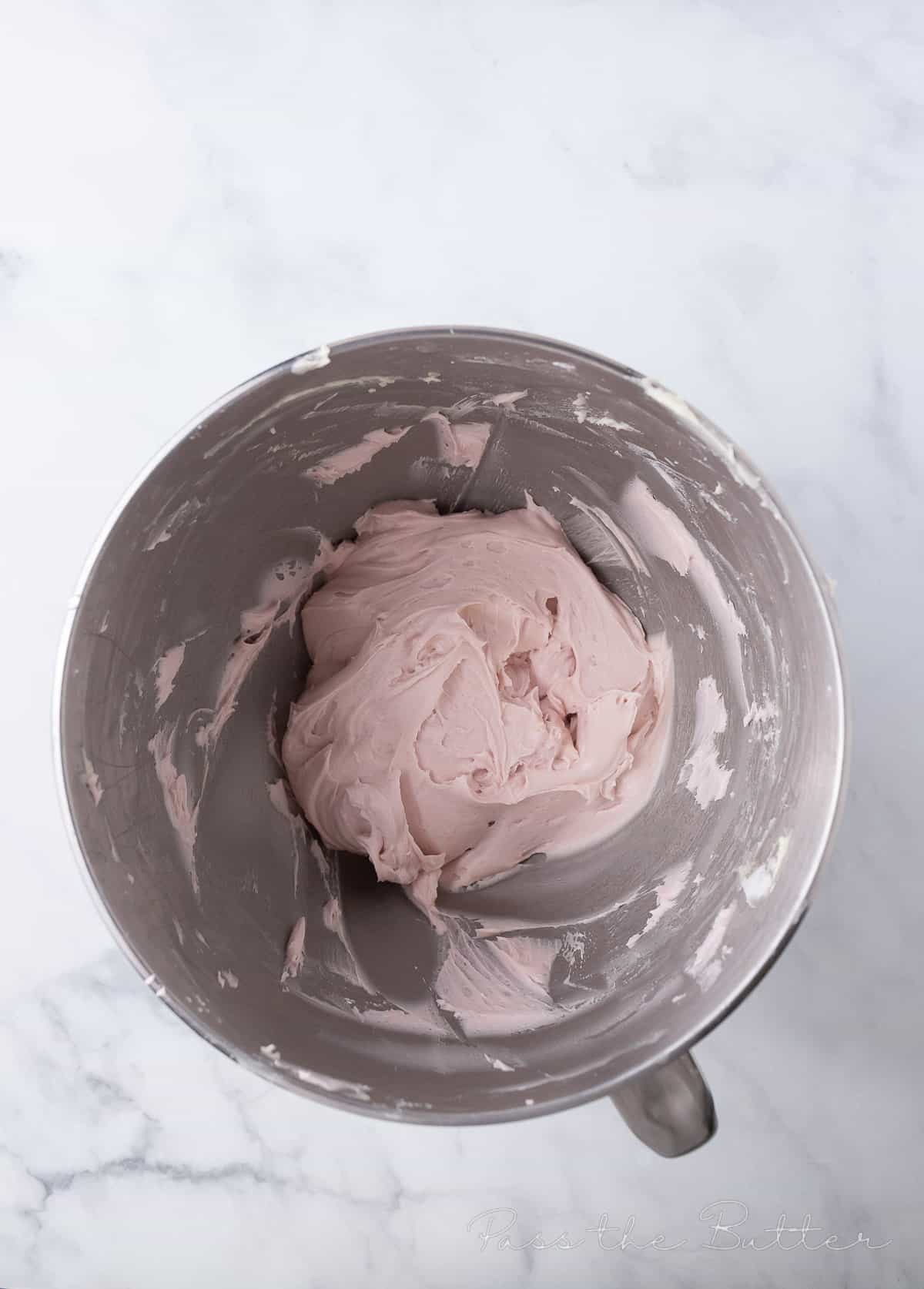 Mix well to incorporate.
Then add to completely cooled cupcakes.
HINT: When you are grinding the lavender flowers down, I found it easiest to use a coffee grinder. The coffee grinder really ground the flowers down to a powder, whereas a food processor did a good job but it took a little longer and they weren't as fine.
You can make the cupcake 1-2 days ahead of time for an event however, the buttercream frosting is best if made and used on the same day.
Storage
You can store these lavender cupcakes in an airtight container in the fridge for up to 3 days.
Frequently Asked Questions
How do you make lavender icing?
You can use ground lavender flowers to make icing or a lavender extract.
Can I put lavender flowers on a cake?
Flowers and plants are a natural decoration for cupcakes. If you're looking for something a little different to the usual florals, lavender is a great choice.
Can I eat raw lavender flowers?
You can eat lavender flowers right from the garden. They have a floral yet bitter taste to them.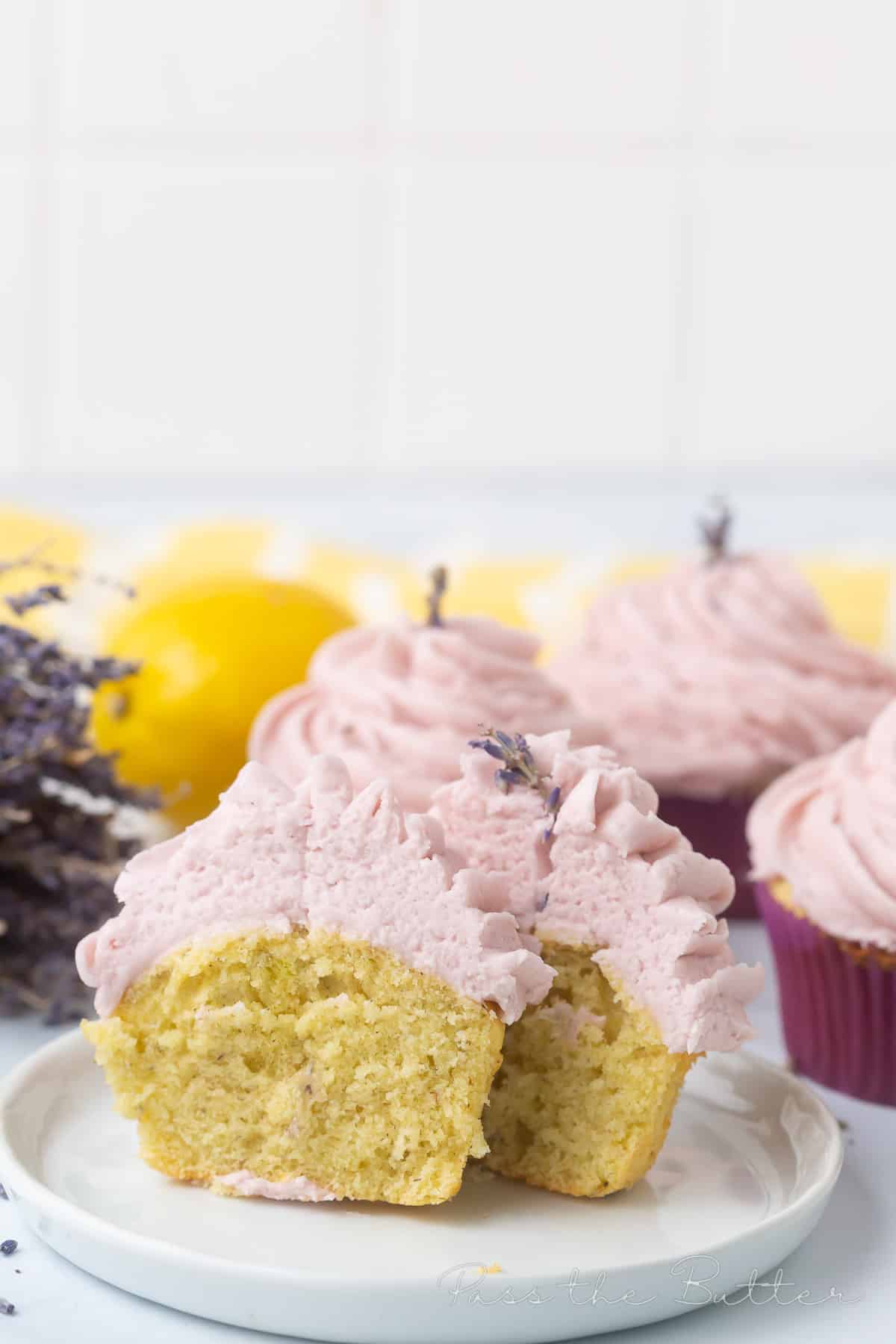 I never thought I was going to love making these lavender cupcakes as much as I did. They are so pretty and fun to give to neighbors and friends and go perfectly with Coffee and tea. While I was skeptical about the kids liking them because lavender can be "earthy", they loved them!
Other Recipes You'll Like